Dr. Sunil Kumar Singh Rathore
Chairman, VISM Group of Studies
Plato (428 BC – 348 BC)said -"The direction in which education starts a man will determine his future life."
Dear Students,
Welcome to VISM Family and welcome to the road to success and a very rewarding career. A career, that will prepare you for roles that will guide the progression of medicare and offer an opportunity to serve the ailing mankind.
The VISM College of Professional Studies will emphasize on academic, clinical and applied learning as well; and is designed to engage, inspire and challenge the aspiring students to enrich themselves personally and professionally.
Allied and Health Care Professional courses like BPT , BMLT and Diploma courses are in demand due immense health care needs.
Physiotherapy practice encompasses provision of preventive, curative and rehabilitative aspects of care to individuals in a variety of health care settings. The four & half year under – graduate course will prepare the graduates to become exemplary citizens, who will adhere to the code of ethics and professional conduct, while fulfilling their personal, social and professional obligations.
I hope you shall make your stay in the institute worthwhile and cultivate proficiencies, expertise and knowledge. I wish you good luck and a rewarding career.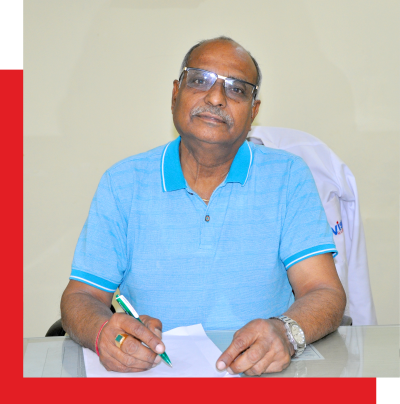 Dr. KS Mangal
Principal, VISM College of Professional Studies
My Motto
A principal's personal vision has to be an ethical one placing students above personal gain, being willing to cooperate for the good of the organization.

Dear Students,

Greetings and best wishes to all of you. I extend a very warm welcome to all the students aspiring to join our prestigious institute for their graduation.

Learning is a never ending process. It requires absolute involvement and complete commitment from both the teacher and the taught.

The main objective of our institution is to develop a passion for learning, provide the best education to the students so that they can meet future challenges successfully, keep them fully conscious of the responsibilities which lie on their shoulders as a human being.

Our outreach programmes hold physiotherapy camps in the rural areas serving the poor and weaker sections of the society. This fulfils the dream of our chairman, to work towards the welfare of mankind.

Here at our institute we unearth the potential by involving them in academic, career building an creative activities. Dear youngsters we look forward to have you as a part of our system and hope that you will shine in the galaxy of our winners, performers and achievers in academic life.

My endeavour is to make the students determined to excel, a competent and dedicated faculty,a meticulously designed curriculum and an optimum infrastructure sothat VISM College of Professional Studies establish itself best landmark in the field .

May the new academic session bring you opportunities to flare better in studies.

We strive for excellent leadership qualities in prospective health care professionals and strengthen the knowledge that promotes higher studies and research opportunities"